If you are looking for Mexican food recipes for parties, then you landed on the right place.
Mexicans love parties, and we also like food. La Michoacana Meat Market presents the 5 Mexican food recipes for parties that we know are most often served at typical Mexican parties.
Enjoy them!
Enchiladas Potosinas
Ingredients
Water
4 Guajillo Chiles
2 potatoes chopped in half-inch cubes
3 carrots cut into half-inch cubes
2 cups grated queso fresco
1 package La Campera enchilada tortilla
2 cups lettuce
2 tomatoes, sliced
3 whole serrano chiles
Directions
Boil 1 cup of water in a medium saucepan. Add the guajillo. Boil 5 to 10 minutes, until rehydrated. Blend the mixture of chiles and water until well incorporated and place in a bowl.
In another pot heat 2 cups of boiling water and salt, parboil the potatoes and carrots to soften. Remove from the water, drain and place in a container for later use.
Place a deep pan on the stove and heat oil over medium-high heat.
Fry tortillas: Pass the tortillas guajillo chili sauce and place them immediately in the hot oil. Do it one by one. Remove from oil when soft, do not allow them to get crunchy. Set aside.
In the same oil, fry the potatoes and carrots. Potatoes and carrots will absorb the flavor of chili remaining in the oil.
Also in the same oil, fry the serrano peppers.
To assemble the enchiladas, fill each tortilla with cheese and roll up.
Place potatoes, carrots and peppers over the enchiladas
Serve with a salad prepared with shredded lettuce, tomato slices, cream and avocado
¡Your enchiladas potosinas recipe is ready!
Gorditas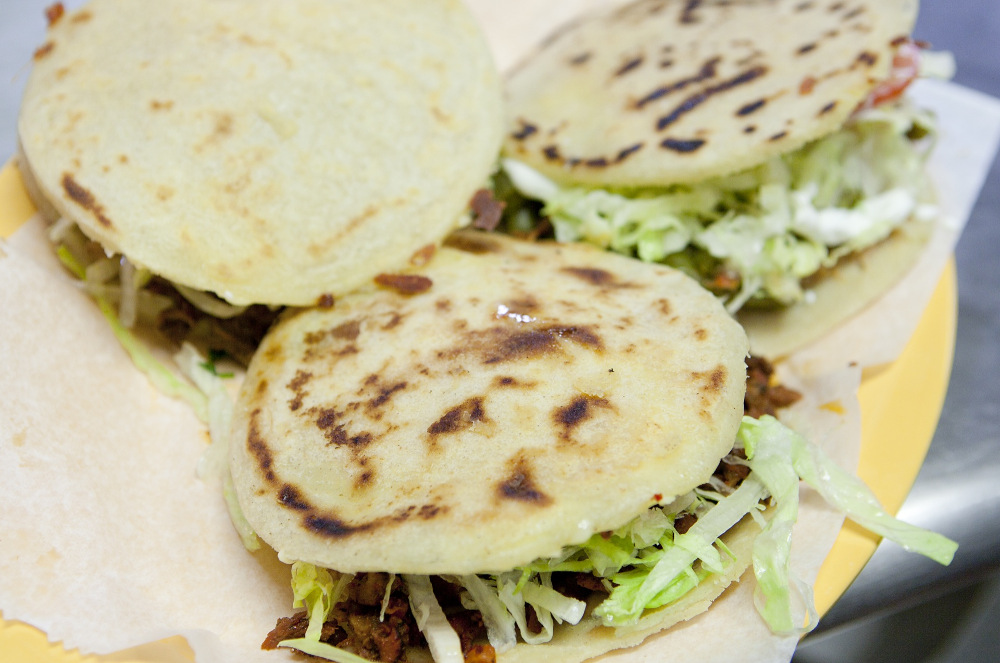 Ingredients
2 cups cornmeal
1/4 cup white flour
2 tablespoons yeast
1 pinch of salt
2 tablespoons vegetable shortening
Oil
Warm water
Grated cheese
Your favorite Mexican stew
Directions
Mix the flour and cornmeal, the yeast and half a tablespoon of salt.
Add the shortening and water to the mix. Stir it until you get a consistent dough.
Divide the dough into 12 portions and form circles with them. You can use a manual tortilla machine to form the circles more easily.
Put enough oil in a pan to dip your gorditas.
Heat the pan over medium heat.
Cook and fry each of the gorditas on both sides until they are well browned.
Place each gordita into a dish with napkins to remove the excess fat.
Use a knife to open the gorditas by the edge.
Fill each gordita with your favorite Mexican stew.
You can accompany each gordita with grated cheese or ground cheese.
Red Pozole
Ingredients
2 lbs. of pork meat (chopped into small pieces of around 1 inch each)
Salt
1 tablespoon of oregano
1 tablespoon of minced garlic
1 piece of white onion
1 lb. of pozole corn (ideally, precooked)
50 grams of guajillo chile
1 piece of tomato
Chopped onion (optional)
Chopped coriander (optional)
Directions
Put the pork meat (previously cut into tiny pieces) in a medium to big sized pot, add water and salt.
Blend the oregano, minced garlic, and the onion together. And add the mix to the pot containing the meat.
Heat the pot over medium heat and let it cook for around 25 minutes approximately.
While the meat is being cooked, boil the tomato until it gets soft. Open the guajillo chiles, remove the seeds and tail, and blend it along with the tomato.
Once the meat reaches de 25 minutes of cooking, add the pozole corn and the guajillo chile sauce you just made. Let it cook for around another 25-30 minutes over medium heat.
That's it! Now it's ready to eat.
You can add some tostadas. Or you can also use chopped onion or chopped coriander as topping for your pozole.
Tamales
Ingredients
Dough:
1 kilogram of corn flour
3 cups melted lard
3 teaspoons baking powder
2 cups chicken broth
3 teaspoons salt
Corn leaves for tamales (boiled for 15 minutes)
Green sauce:
½ kilogram of green tomato
10 green serrano peppers
1 bunch of cilantro
3 garlic cloves
1 onion
½ shredded chicken breast
1 pinch of salt
½ cup of water
Directions
The Dough:
Churn the lard until it changes color, should be whitish.
Gradually add the flour, chicken broth, baking powder and salt. Add these ingredients little by little to obtain an homogeneous mixture without lumps.
Knead for about 20 minutes, let the mixture rest for a while.
The Green Sauce:
Boil the tomato along with the peppers. When cooked, blend them together with the cilantro, garlic, and onion.
Fry the sauce with 1 tablespoon of oil for about 5-10 minutes.
Add the water along with the chicken to the sauce.
Add salt to perfect the taste of the sauce. It should not be thick.
To make each tamale, take a corn leaf and, in the narrow part of the leaf, put some sauce and extend it. Then, put the dough and, in the center, add another spoonful of sauce. Close the leaf from right to left and fold it in half. The two ends of the leaf should be left together like an envelope. Make all your tamales one by one.
Put your tamales in your tamalera or steam pot. Add water, then put the grid above, and finally put your tamales, one over another, without touching the water.
Cook for an hour and make sure the pot always has some water to generate steam.
To know if the tamales are already cooked you have to open them with care. If the leaf is easily detached from the dough, it means they are ready.
Add sour cream and your favorite mexican sauce to accompany your tamales.
Tacos Al Pastor
Ingredients
2 ancho peppers
2 guajillo peppers
1/2 achiote paste bar
1/4 cup white vinegar
1/2 cup sour orange juice
4 tablespoons corn oil
1 cup finely chopped onion
1 cup chopped cilantro
2 lbs. of pork steak
1/2 cut into strips
Directions
Blend the peppers, achiote, vinegar and orange juice.
Marinate the pork steaks with the achiote mixture and put them in a large bowl.
Cover the steaks with the rest of the mixture.
Let them marinate for about 2 hours.
Over a hot pan, stir fry the onion strips. Add the marinated steaks.
Cook until the steaks get browned.
Chop the meat into tiny pieces.
Heat a hotplate over medium heat.
Heat the tortillas.
Make each taco with a hot tortilla and meat.
You can accompany with onion, coriander, lemon and your favorite Mexican sauce.
Did you like our Mexican food recipes for parties? Then share with your friends and family.